It is with great pleasure and honor that I announce the weekly Break 80 Newsletter was awarded the distinction of an APEX Publishing Excellence Award.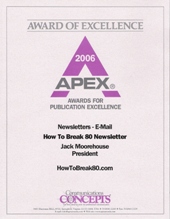 We were chosen out of thousands of nominees and have been voted as the Best Golf Email Newsletter on the web. For those who don't know about APEX, APEX is an independent third party that has been reviewing editorial pieces such as newsletters, ads, reports, web sites, etc. for over 18 years. They seek out the "best of the best" based on editorial content, the ability to achieve overall communications excellence and a few other criteria. The judges informed me that the competition was quite stiff and that many folks who won before had not
won this year.
I guess I can't really say I'm surprised with this announcement and I mean that without a hint of arrogance. I mean it because there are countless golfers who email every day telling us how they have lowered their golf handicaps as a result of this newsletter. In fact, a big part of how I designed the newsletter is based on feedback from my readers and constant testing.
So, thanks for helping us get this prestigious award and look for your weekly newsletter, as always, every Wednesday.
Got a comment on this post?  Just click the Comments link below.
Best Regards,
Jack
P.S. The newsletter will always have a subject line of [Go Low Ezine] or "Your Break 80 Newsletter".